We're very pleased to announce that iAssociate 2 for Android is finally out! That's right, you can now get it from the Android Market.
iAssociate 2 for Android @ Android Market
Our initial plan was to have it out before Christmas, but as the game wasn't in a state we were happy with we decided to postpone it to January. We were very confident with having it out in January so foolishly we told everyone it would be out by then.
Unfortunately on the last day of the month something happened that made us delay the release until now. What happened was, believe it or not (this is a "the dog ate my homework moment"), that my iMac's hard disk decided to quit on me, and, when starting work on Jan 31st all I got was a kernel panic message, and despite many tries to fix the issue we eventually realized that all we could do was to drop the computer off at Apple service and wait for them to fix it, which took them a bit over a day before they got it back to us.
Here's a picture of my iMac crashing. Apparently Apple products can break (who would have known?!).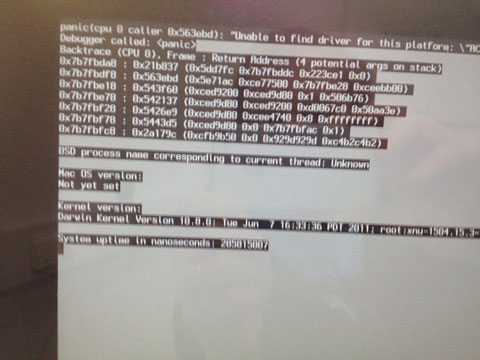 Anyhow, all is well that ends well and we've finally released the game for Android. This is our first major Android launch, so although we've tested the game on multiple devices and made sure it works as expected there could still be some minor issues with the game. So please let us know if you find anything not working as expected.
The game comes with a total of 10 free levels, although it has ads showing in game until you buy three levels from the Token store. Also, currently the only way to acquire more levels is by getting Tokens from the Offerwall (From the "Earn FREE Tokens"-button). However for those not wanting to earn Tokens we're looking into an alternative payment method for a future update.
Happy gaming & Let us know what you think!
---